TCFP 165 Driver/Operator - Pumper
60.00 Hours
Description of Certification Level
A Driver/Operator-Pumper is an individual who possesses the qualities, knowledge and skills necessary to maintain and operate a pumping apparatus in non-emergency and emergency situations.
Online and Resident Courses  
If a department has more than 5 students, NTFA staff will come to your location and conduct skills. Saving your department critical budget dollars
Cost of Course $350.00     
Resident class as needed
Online classes begin anytime based on student dates requested. The online class takes at least 60 days to complete. You must attend skills training on the 1st weekend of each month while enrolled in class. (2 skill dates Inspection and driving)
You must complete the course with a 70 average to be eligible to take the state certification test.
Driver/Operator-Pumper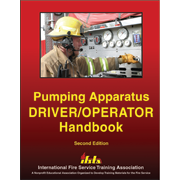 TEXTBOOK
Pumping Apparatus Driver/Operator Handbook (2nd Ed.) (2006). Stillwater, OK: Fire Protection Publications. International Fire Service Training Association.
Pumping Apparatus Driver/Operator Handbook
[36719]
The 2nd edition of the Pumping Apparatus Driver/Operator Handbook is designed to educate driver/operators who are responsible for operating apparatus equipped with fire pumps. The information in this manual aids the driver/operator in meeting the objectives found in Chapters 1, 4, 5, 8, and 10 of NFPA® 1002, Standard for Fire Apparatus Driver/Operator Professional Qualifications (2003 edition).
This manual presents general principles of pump operation, along with the application of those principles. It is also meant to guide driver/operators in the proper operation and care of apparatus. This manual includes an overview of the qualities and skills needed by a driver/operator: safe driving techniques, types of pumping apparatus, positioning apparatus to maximize efficiency and water supply, fire pump theory and operation, hydraulic calculations, water supply considerations, relay pumping principles, water shuttle procedures, foam system operation, and apparatus maintenance and testing.

Publisher: Fire Protection Publications
ISBN: 978-0-87939-278-9
Edition: 2nd Edition
Year: 2006
Pages: 604
IFSTA Item Number: 36719
Overview
The Driver/Operator-Pumper curriculum is designed to provide clear guidance that ensures adequate presentation of the information required to meet the Job Performance Requirements (JPRs) of National Fire Protection Association (NFPA) 1002, Standard on Fire Apparatus Driver/Operator Professional Qualifications, 2009 edition.
The Driver/Operator-Pumper curriculum is Chapter 7 of the Texas Commission on Fire Protection (TCFP) Curriculum Manual.
| | | |
| --- | --- | --- |
| Certification Level | TCFP Section Number | NFPA 1002 Chapter |
| Driver/Operator-Pumper | 700 | 4 and 5 |
DRIVER/OPERATOR-PUMPER
CURRICULUM OUTLINE
| | | |
| --- | --- | --- |
| SECTION | SUBJECT | RECOMMENDED HOURS |
| 700-4.1 | General | 2 |
| 700-4.2 | Preventive Maintenance | 8 |
| 700-4.3 | Driving/Operating | 16 |
| 700-5.1 | General | 8 |
| 700-5.2 | Operations | 26 |
|   |   |   |
|   | TOTAL RECOMMENDED HOURS* | 60 |
*Actual hours required will depend on the number of students, the number of examiners, availability of equipment, and the student skill level.
DRIVER/OPERATOR-PUMPER PERFORMANCE SKILLS
Format
Similar Driver/Operator-Pumper skills are combined into one skill sheet when possible. These skill sheets should be used in a progressive type grading format. The skill sheet
is divided into individual skill objectives.              The Examiner should evaluate the
Driver/Operator-Pumper candidates as they complete each skill of the evaluation. The skills that could not be combined are provided as independent skill sheets.
For skill sheets that do not contain time constraints, the Course Instructor should specify time constraints as necessary.
Scoring Method
For some performance skills, the scoring method is Satisfactory (S) or Unsatisfactory (U) for each step of the skill objective, and a Pass or Fail for each individual skill section. In order to successfully pass an individual skill section, the Driver/Operator ­Pumper candidate must receive satisfactory scores in all the steps of the skill objective. In order to receive an overall Pass on the skill sheet, the Driver/Operator-Pumper candidate must receive a passing score for all individual skill sections.
If a step of a skill objective is scored "Unsatisfactory", only that skill objective must be retested. For example, if a candidate fails step b of Skill 11, he or she must be retested on Skill 11, in its entirety. Any Unsatisfactory or individual skill failure shall require the examiner to explain the reason for the failure in written form in the comments section of the skill sheet.
Other performance skills use a combination of items that are either "Pass or Fail" or are assigned a point value. For these skills, the points required to pass the skill are equal to 70%, and all "Pass or Fail" items must be successfully passed. On the performance skill sheet, circle the appropriate point value or the "P" for pass and the "F" for fail.