TCFP 448 Inspector I (Includes Skills
90.00 Hours Redial ONLINE ONLY
Description of Certification Level
The Fire Inspector I conducts basic fire inspections and applies codes and standards.
Online and Resident Courses  
If a department has more than 5 students, NTFA staff will come to your location and conduct skills. Saving your department critical budget dollars
Cost of Course $400.00     
Resident class as needed
Online classes begin anytime based on student dates requested. The online class takes at least 90 days to complete. You must attend skills training on the 1st weekend of each month while enrolled in class. (2 skill dates Inspection and driving)
You must complete the course with a 70 average to be eligible to take the state certification test.
BASIC FIRE INSPECTOR
(All three curricula are to be completed for Basic Fire Inspector certification)
FIRE INSPECTOR I

401-4.1

General

1

401-4.2

Administration

8

401-4.3

Field Inspection

81

401-4.4

Plans Review

0
Textbook
Fire Inspection and Code Enforcement (7th Edition) Manual and Student Workbook Package
[37493]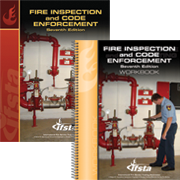 Fire Inspection and Code Enforcement (7th edition)
Publisher: Fire Protection Publications
Edition: 7th Edition
Year: 2009
IFSTA Item Number: 37493