TCFP 167 Fire Officer IV
56.00 Hours
Description of Certification Level
FIRE OFFICER IV
A Fire Officer IV is an upper level supervisor who performs both supervisory and first-line managerial functions who has met all the job performance and certification requirements of Fire Officer III as defined in NFPA 1021, Standard for Fire Officer Professional Qualifications. An individual at the Fire Officer IV level as part of his or her duties and responsibilities:
·       Administers job performance requirements, and evaluates and improves the department
·       Projects a positive image of the fire department to the community
·       Develops long-range plans and fiscal projections
·       Develops plans for major disasters
·       Administers a comprehensive risk management program
Online and Resident Courses  
If a department has more than 5 students, NTFA staff will come to your location and conduct skills. Saving your department critical budget dollars
Cost of Course $350.00     
Resident  class as needed
Online classes begin anytime based on student dates requested. The online class takes at least 60 days to complete. You must attend skills training on the 1st weekend of each month while enrolled in class. (2 skill dates Inspection and driving)
You must complete the course with a 70 average to be eligible to take the state certification test.
Textbook
Chief Officer (2nd Ed)(2004). Stillwater, OK: International Fire Service Training Association
Chief Officer
[36642]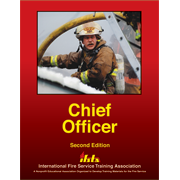 IFSTA's Chief Officer manual provides a valuable resource and educational foundation for current chief officers. It includes the basic knowledge and skills necessary to lead and manage fire and emergency service organizations. It also provides company officers and chief officer candidates with the motivation and basic tools required to achieve the promotions that ensure a professional and well-trained officer corps for the future.).
The manual provides the necessary knowledge to meet the basic requirements found in NFPA® 1021, Standard for Fire Officer Professional Qualifications for Fire Officer Levels III and IV. The reader will find the information logically organized into chapters that begin with basic knowledge and skills. Topics include leadership, logic, ethics, communication skills, management and supervisory skills, and administrative skills. These skills are then applied to the functions that chief officers generally perform: human resources, community relations, governmental relations, administrative programs and planning, fire and life-safety programs, emergency services delivery, and health and safety programs.
FIRE OFFICER IV
CURRICULUM OUTLINE
SECTION

SUBJECT

RECOMMENDED HOURS

904-7.1

General

2

904-7.2

Human Resource Management

12

904-7.3

Community and Government Relations

6

904-7.4

Administration

12

904-7.5

Inspection and Investigation

No performance
requirements at
this level

904-7.6

Emergency Services Delivery

12

904-7.7

Health and Safety

6

 

Performance Skills*

6

 

 

 

 

TOTAL RECOMMENDED HOURS

56
*The recommended hours for skills evaluation is based on 12 students. Actual hours needed will depend on the number of students, the number of examiners, availability of equipment, and the student skill level.