TCFP 200 Hazardous Materials Technician
80.00 Hours
Description of Certification Level
A Driver/Operator-Pumper is an individual who possesses the qualities, knowledge and skills necessary to maintain and operate a pumping apparatus in non-emergency and emergency situations.
Online and Resident Courses  
If a department has more than 5 students, NTFA staff will come to your location and conduct skills. Saving your department critical budget dollars
Cost of Course $475.00     
Resident  class as needed
Online classes begin anytime based on student dates requested. The online class takes at least 90 days to complete. You must attend skills training on the 1st weekend of each month while enrolled in class. (2 skill dates)
You must complete the course with a 70 average to be eligible to take the state certification test.
TEXTBOOK
Hazardous Materials Technician, 1st Edition
[36885]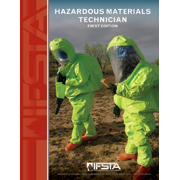 Technician Training in One NEW Text
·      ALL Technician knowledge and skills for NFPA® 472, 2013 Edition
·      Advanced offensive operations
·      Initial Response to termination
·      NFPA® competencies correlated in each chapter
·      Complete instructor resources
This new IFSTA manual is the only book available that directly addresses all competencies for Hazardous Materials Technician according to NFPA® 472, Standard for Competence of Responders to Hazardous Materials/Weapons of Mass Destruction Incidents, 2013 Edition. It also meets Technician Level requirements in OSHA Title 29 CFR 1910.120 (HAZWOPER). The eBook and print format are available. Buy the eBook bundle for the best value.
All knowledge and skills responders must know, from incident analysis to termination is covered in depth. This includes haz mat chemistry; container identification, construction features and leak points; as well as product control and decontamination operations. Each chapter begins with a list of specific learning objectives and the correlating competency numbers in NFPA® 472. Competency numbers are indexed in Appendix A so students and instructors can identify the exact places in the text to locate the applicable content.
The first edition of Hazardous Materials Technician builds on Hazardous Materials for First Responders, 4th Edition, taking training to the next certification level. The first manual addresses training for Awareness and Operations response at hazardous materials incidents. This new manual is designed to prepare emergency responders to conduct advanced, offensive operations.
Case Histories open each chapter to illustrate important lessons learned in the real world. Pictures, tables, and graphics help students master important concepts. Each page is presented in easy-to-read single-column format. Key terms and definitions are highlighted, and Caution and Warning boxes pull out critical safety information. Skill Sheets at the end of each chapter provide step-by-step instructions for every competency.
The curriculum contains all components for a successful course, and all of these instructor resources are customizable.
HAZARDOUS MATERIAL TECHNICIAN
Hazardous Materials Technician Level Personnel are those who respond to hazardous materials/weapons of mass destruction (WMD) incidents and
·        Use a risked based response process to analyze a problem involving hazardous materials/weapons of mass destruction (WMD),
·        Select and implement applicable decontamination procedures,
·        Control a release,
·        Use specialized protective clothing, and
·        Use specialized control equipment.
The Hazardous Materials Technician must first master all the job performance requirements and knowledge, skills and abilities pertaining to:
·        Awareness Level Personnel,
·        Operations Level Responders, and
·        The competencies of this chapter
Response options for technician level responders may include offensive actions.
HAZARDOUS MATERIALS TECHNICIAN
CURRICULUM OUTLINE
SECTION

SUBJECT

RECOMMENDED
HOURS

604-7.1

General - Introduction - Laws, Regulations, and National Consensus Standards

 

604-7.2

Analyzing the Incident

 

604-7.3

Planning the Response

 

604-7.4

Implementing the Planned Response

 

604-7.5

Evaluating Progress

 

604-7.6

Terminating the Incident

 

 

TOTAL RECOMMENDED HOURS

80
The recommended hours include time for skills evaluation and are based on 12 students. Hours needed depend on the actual number of students.