TCFP 455 Plans Examiner I Phase III
40.00 Hours Redial ONLINE ONLY
Descriptions of Certification Levels
The Plan Examiner I analyzes building construction, hazardous processes and architectural drawings or plans to ensure compliance with building and fire codes.
Online and Resident Courses  
If a department has more than 5 students, NTFA staff will come to your location and conduct skills. Saving your department critical budget dollars
Cost of Course $200.00     
Resident class as needed
Online classes begin anytime based on student dates requested. The online class takes at least 60 days to complete. You must attend skills training on the 1st weekend of each month while enrolled in class. (2 skill dates Inspection and driving)
You must complete the course with a 70 average to be eligible to take the state certification test.
Skills
NFPA Requisite Skill requirements are addressed in the corresponding Skill Sheets. The skills are combined depending on whether the skill relates to General, Field Inspection, Administration, or Plans Review.
The Fire Inspector II conducts most types of inspections and interprets applicable codes and standards.
Plans Examiner for Fire and Emergency Services
[36643]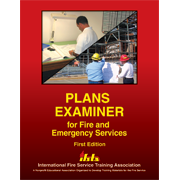 This manual was developed for personnel who serve their communities by ensuring that construction projects meet applicable fire and building codes and standards. It addresses the job performance requirements (JPRs) of Plans Examiner I, and (to some extent) Plans Examiner II as outlined in Chapters 7 and 8 of NFPA® 1031, Standard for Professional Qualifications for Fire Inspector and Plan Examiner (2003). While the structure of this manual reflects the standard, the material in each section is drawn from a variety of sources. The manual only partially addresses Plans Examiner II since an in-depth review of sprinkler or fire alarm shop drawings is not included.
A glossary, three appendices, and a bonus disc CD-ROM containing numerous samples and examples complete the manual.
Please note: This manual also comes with a sample set of blueprints that are referenced in various chapters throughout the book.



Publisher: Fire Protection Publications
ISBN: 978-0-87939-266-6
Edition: 1st Edition
Year: 2005
Pages: 390
IFSTA Item Number: 36643
PLAN EXAMINER – PHASE III

470-7.1

General

1

470-7.2

Administration

9

470-7.3

Plans Review

30

 

Total Recommended Hours

40